I'm finally back!
It's been a while but who has the time to blog while filling up on turkey and spending time with family?
We had a few wonderful Thanksgiving dinners and were lucky to spend them with the people we love!
We've haven't been as busy as usual, but I have been preparing for Christmas.
Since my blog posts suffered for the month of October and have continued to suffer for November, I've decided that December is going to be different!
I'm really excited for Christmas and have already completed a few crafts!
Our Christmas tree is already up and a few gifts have been bought.
Not yet wrapped, because I'm not too sure how I'm going to do that yet.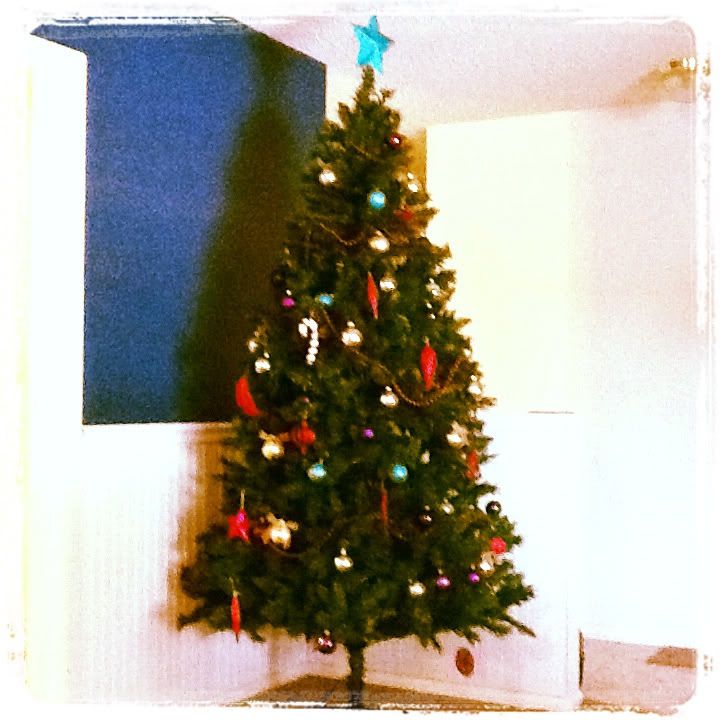 I took down all of the Halloween decorations, leaving our shelves naked and sad.
I say sad because... well, look at them.
If they had a face it would be frowning.
(I know you're impressed by my kickass photoshop skills)
Since we're preparing for Christmas, we've been frequenting all of our favorite thrift stores.
In search of potential projects, Christmas decor and just plain old impulse purchases.
Here are a few of our favorite finds/impulse buys from the week.
A money cat $4, to match the huge ones on our shelves that my sister so graciously loaned to us!
We got this glass... thing at the thrift store for .50 cents!
I thought it was cute but wasn't quite sure what to do with it.
Oh well, we'll figure something out!
This little lamb is one of my favorites!
We got it for $1 at a thrift store.
It reminds me of something you'd see at a baby shower.
Not that there will be any baby showers anytime soon!
I just love it for Mia's room!
This is called a butter dish, if I'm not mistaken.
We got it for .45 cents at the thrift store, I don't think we're going to be using it for butter.
It's going to be used as a Christmas decoration of some sort.
This nutcracker was too good to pass up.
It was $3.00 at the thrift store and in great condition.
He's Mia's favorite too.
She named him Friend.
He's going to look great up on the shelf with all of the other Christmas decor.
These next two are my favorite finds!
I rarely find stuff like this so I was especially excited when I found these two together!
The Ram was $17.99 and the Rhino was $13.99.
We found them at Ross!
Mia named the Ram, Bobby BaBa and the Rhino's name is Kermit.
I know the prices are a bit much, but in my opinion they were totally worth the splurge!
These two will go well with our ceramic reindeer head also known as Sharpay.
He was once in our bedroom but has since moved onto our Christmas shelves.
This cute little birdcage was found at a flea market and cost us .25 cents!
It's on our Christmas tree for now, but I actually bought it for Mia's room.
Those are my great finds from the past few weeks.
December is approaching and I've got a whole bunch of projects to do!
I've gotten a lot of sweets to bake with Mia and we've been watching Elf to get into the Christmas spirit.
Don't you wish you could decorate your house for Christmas as quickly and beautifully as Buddy the Elf?
I know, I do.
I hope everyone's preparing for the Holidays!
I know I've got a lot of shopping, baking, crafting and decorating to do!
We've also got a super awesome two year old that loves Christmas just as much as her Mommy!
I'll be back soon with some Christmas Crafts, it's gonna be awesome!
Prepare to have your world rocked!